---
Old Windmill, 20-23 Spon Street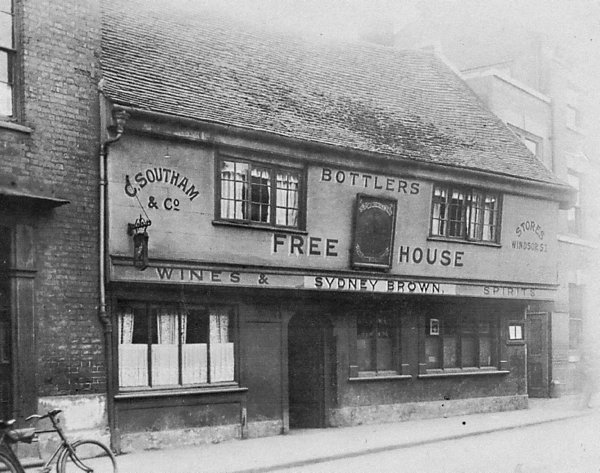 This is probably Coventry's oldest and best-known pub. It is Grade II listed and described as follows: 'Sixteenth century or earlier. Colourwashed stucco front, old tiled roof. A timber frame of two storeys with first floor oversailing, corbels encased behind wooden fascia'. It is not dated any earlier than the sixteenth century because of the absence of any trace of a hall. Still, it has been claimed to have been built in 1451 and, during the renovation of 1985, a Victorian fireplace was removed to expose an open stone hearth which was also claimed to be fifteenth century.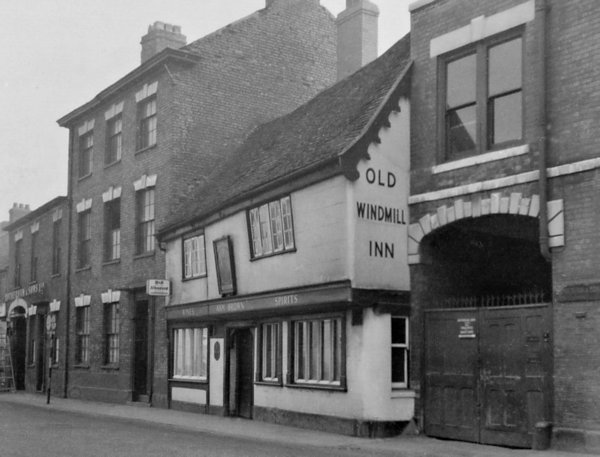 In 1756 four soldiers were billeted here. Until the mid- nineteenth century, these were was two premises with the partition being the passageway from the central front door which ran through the whole site. The site of the present bar was a yard with outside toilets at the end. To the left of the passageway was a shop where an assortment of goods, including toys, was sold. To the right was the pub. When the property was united, the left hand side was domestic quarters until recently whilst domestic quarters also covered the entire width upstairs. The pub is known as Ma Brown's as this lady kept the pub until her death at the age of 84 in 1967. The Brown family's association with the pub began in 1931 when Sydney Brown became licensee. Previously he had run the Lamp Tavern in Cook Street and before that he had been a carpenter and coffin maker in Hillfields. Sydney Brown died in 1940 and his wife, Ann (Ma) Brown took over the tenancy. It is said that she 'ran an orderly and efficient house, did not suffer fools gladly and would not allow gambling on the premises'. After her death her son Ted and his wife Dora took over and ran the pub until retirement in 1975.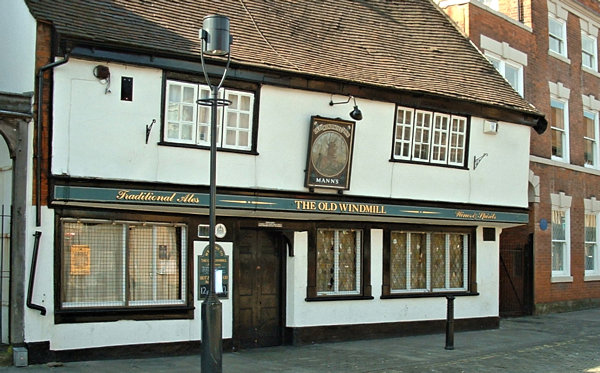 The pub was a home-brew house until 1930, so brewing appears to have ceased with the arrival of the Browns. The brewhouse still survives to the rear of the pub, although there is seating there now. In 1985 the pub was extensively renovated. The yard was enclosed and became part of the building; the bar was placed here. The old bar, of tiny proportions, only being 2 feet 6 inches wide, was retained as a snug and the front room with its range remained unchanged. Only one wall was removed to open up the lounge into the new bar area.


LICENSEES:
1835 John Welch 1841 Thomas Hazell 1850 John Bayliss 1850 - 1851 James Cooper 1868 - 1893 William Cattell 1894 - 1905 William Cattell junior 1911 - 1913 R. B. Twyneham 1914 Charles Hitchcox (see also at the Horse and Jockey, Much Park Street in 1916 and the Toby's Head, Pepper Lane 1924 - 1927) (Thanks to Malcolm Croft for info) 1919 - 1922 Edith Elizabeth Twyneham 1924 - 1929 C. E. Twyneham 1931 - 1940 Sidney Brown 1940 - 1967 Mrs. Ann Brown 1967 - 1975 Edward Brown 1977 Terry Jones 1982 Mike Woolmer 1985 Mick Blackburn BREWERS: to 1910 William Cattell 1910 - 1930 Mrs. Catherine E. Twyneham