Beerhouse index
---
The gradual increase in gin consumption in the early 19th century lead to a pressure for reform. The 1820s were a decade of falling beer consumption and increasing gin consumption and the time of the emergence of the 'gin palace'. This was the result of a reduction in spirit duties and also of the cost of spirit licenses. Why were these duties reduced? Because the Whigs were in favour of Free Trade and the Tories had anticipated increased agricultural incomes. In 1825 there were 8,500 more spirit licenses than in 1800 in England. There was a concerned reaction to this. At this time temperance agitation was anti-spirit agitation. Temperance meant moderation, not abstinence and it was not thought incompatible to rail against spirits whilst maintaining that beer was a wholesome and nutritional beverage. Conditions were ripe for measures to be taken. There was an attempt at legislation in 1828 which failed. In 1830 the Duke of Wellington pushed through the Beer Act, which abolished all duty on beer and established the right of any householder to sell beer upon the purchase of a 2 guinea license from the Excise. The beerhouses so established were subject to a ?20 fine for selling wines or spirits. The result was that all the illicit alehouses came out of hiding and traded legally, whilst every craftsman's shop obtained a license to sell beer as a refreshment for waiting customers. Many established premises became beerhouses because of its convenience. In the first year 24,000 licenses were granted; by the end of 1831 it was 31,000; 1832, 36,000; and by 1836, 46,000. This is at a time when there were only 56,000 fully licensed public houses in the country.
The figures for Coventry were: 1835 - 117 pubs and 77 beerhouses 1841 - 151 pubs and 70 beerhouses 1874 - 243 pubs and 9 beerhouses
The effect of the Act was to encourage beer and gin drinking to the detriment of tea. It also did not weaken the power of the common brewer, as they continued to tie fully licensed public houses, whilst the quantities sold in beerhouses were relatively insignificant and it was probably brought from a common brewer in any way. Bass production rose six fold from 1830 to 1840. There were acts in 1834, 1839, 1840, 1848, 1850 and 1856, which attempted to reverse the situation brought about in 1830. In 1869 the Wine and Beerhouse Act reversed the 1830 Act by bringing beerhouses under the purview of the magistrates to enforce a clean-up operation against the beerhouses. Existing beerhouses had some protection, but very few were licensed after 1869. The last beerhouse in Coventry, probably the Nugget in Coundon, became a fully licensed public house in the 1930s.

Beerhouse Address (and licensee)

(333 beerhouses)

This Beerhouse became

Aldermans Green (Barson)
Miners Arms
Aldermans Green (Birch)
Weavers Arms
Aldermans Green (Hartop)
Aldermans Green (Jacques)
Aldermans Green (Morton)
Aldermans Green, Jackers Road (Devonport, Clay)
Allesley (Beacham)
Allesley (Turner)
Royal Oak
Allesley (Wills, Burbridge)
Unicorn
Allesley, Butts Lane (Elliot)
Allesley, Coundon Road (Clarke)
Allesley, Hawkes End (Falconbridge)
Drum and Monkey
Bell Green (Arculus)
Bell Green (Butcher)
Shoulder of Mutton Inn
Bell Green (Claridge)
Bell Green (Edmunds)
Bell Green (Flavell)
Bell
Brownshill Green, Wall Hill Road (Sanders, Catlin)
White Lion
Chapelfields, 21 Craven Street (Yardley)
Coombe Abbey Inn
Chapelfields, 71 Craven Street (Beers, Laxton, Gorsuch)
Brewers Arms
Chapelfields, Craven Street (Gibbs)
Coombe Abbey Inn
City, 1 Bond Street (Freckleton, Kelsey)
Oddfellows Arms
City, 1 Cow Lane (Graham)
Hare and Squirrel
City, 1 Freehold Street (Jordan)
Freehold Tavern
City, 1 Lower Ford Street (Southam)
Canterbury Arms
City, 1 Smithford Street (Harrison)
Coventry Arms
City, 1 Whitefriars Street (Reading)
White Friar
City, 10 Howard Street (Bailey)
Gate Tavern
City, 11 Hill Street (unknown)
City, 13 Canterbury Street (Salisbury)
City, 14 King William Street (Gill)
Ivy Cottage
City, 14 Market Place (Sidwell)
Star Vaults
City, 14 Spon Street (Smith)
Recruiting Sergeant
City, 15 Drapers Field (Townsend)
Moira Arms
City, 15-16 St John Street
Cottage Inn
City, 16 Jordan Well (Barnacle)
Mattock and Spade
City, 16 Spon Street (Hughes)
Board
City, 17 Smithford Street (Morris)
City, 19 Bishop Street (Leigh)
Woodman Inn
City, 20 Bishop Street (Townsend)
Old Stag
City, 20 Hertford Place (Cox)
Hertford Arms
City, 21 Cook Street (unknown)
Old Tower Inn
City, 27 Hertford Street (Allen, Feltham)
Half Moon
City, 29 King William Street (Brocklebank, Coldicott, Reading)
City, 35 Queen Street (Molesworth, Thomas)
City, 35 Smithford Street (Dell, Suffolk)
Old Baths Hotel
City, 37 Freeth Street (Fossey)
City, 43 Smithford Street (Bailey)
Fleur de Lis
City, 45-46 Thomas Street (Spicer)
Albion Tavern
City, 47 Leicester Street (Coe)
City, 48 Spon Street (Hollins)
Eagle Wine and Spirits Vaults
City, 5 Cook Street (Dowse)
Holly Bush
City, 51 Hope Street (Gutteridge)
Union Arms
City, 54 Spon Street (Monk, Taylor, Morgan)
City, 6 King Street (Hinton)
City, 60 Spon Street (Mills)
Queens Arms
City, 61 Yardley Street (Warner)
Half Moon Inn
City, 63-64 Butts (Essex)
Russell Arms
City, 64 Greyfriars Lane (Walker, Price)
Greyfriars Inn
City, 73 Much Park Street (Reading)
White Friar
City, 75 Spon Street
Melbourne Hotel
City, 8 Tower Street (Bradford)
Hope and Anchor
City, 87 Cox Street (Connor)
City, 9 Bull Ring (Burrows)
Golden Lion
City, 9 King Street (Payne)
City, 9 Smithford Street (Sumner, Colley)
City Vaults
City, 98 King William Street (Rose)
Primrose Hill Tavern
City, Bailey Lane (Woodler)
City, Bishop Street (Hill)
City, Bishop Street (Stowell)
City, Bull Ring (Leeson)
City, Butcher Row (Clark)
City, Butcher Row (Evans)
City, Butcher Row (Goodman)
City, Butts (Collingbourne)
City, Butts Lane (Welch)
Union Arms
City, Butts, Junction Street (Cox)
City, Chauntry Place (Makepeace)
City, Cook Street (Farmer)
City, Cow Lane (Chattaway)
City, Cow Lane (Gilbert)
City, Cross Cheaping (Byrne)
Kings Arms
City, Dead Lane (Winkless)
City, Earl (or Gosford) Street (Bray)
City, Earl Street (Smith)
City, Fleet Street (Barton)
City, Freeth Street (Cramp)
City, Gas Street (Docker)
Gas Tavern
City, Greyfriars Lane (James)
City, Greyfriars Lane (Pearson)
Bell
City, Hertford Place (Brown)
City, Hertford Place (Glaze)
City, High Street (Hibell, Freeman)
Waters Wine Lodge
City, Hill Place (Webb)
Watchmakers Arms
City, Jordan Well (Gray)
Rainbow
City, Jordan Well (Walker)
City, Leicester Row (Golsby)
Canal Tavern
City, Leicester Street (Eaves)
Swanswell Cottage Inn
City, Leicester Street (Jordan)
Barley Mow
City, Little Park Street (Tagg)
City, Market Street (Brown)
Welch Harp
City, Moat Street (unknown)
Moat House Tavern
City, Much Park Street (Bright)
City, Much Park Street (Goodman)
City, Much Park Street (Hewitt)
City, Much Park Street (Reynolds)
City, New Buildings (Brookes)
City, New Buildings (Johnson)
City, New Buildings (Makepeace)
City, New Street (Cramp)
City, New Street (Humphries)
City, New Street (Tandy)
City, New Street (Tansley)
Britannia
City, Palmer Lane (Barton)
City, Palmer Lane (Hadden)
City, Palmer Lane (Trickett)
City, Palmer Lane (Watts)
City, Paynes Lane (Guttridge)
City, Paynes Lane (Samson)
City, Sherbourne Street (Alliban)
City, Sherbourne Street (Brown)
Shamrock
City, Sherbourne Street (Eaves)
Wagon and Horses
City, Silver Street (Dawson)
City, Smithford Street (Dalton)
Ram
City, Smithford Street (Eaves)
City, Smithford Street (Langshaw)
City, Spon Street (Bagshaw)
City, Spon Street (Barnacle)
Harrow
City, Spon Street (Beers)
City, Spon Street (Heales)
City, Spon Street (Kendall)
City, Spon Street (Micklin)
Dyers Arms
City, Spon Street (Pratt)
City, Spon Street (Taylor)
Fountain
City, Spon Street (Wall)
City, St Nicholas Place (Stringer)
City, Swanswell Street (Merridew)
City, Swanswell Terrace (Wilcox)
Bull and Anchor
City, Thomas Street (Lance)
Moat House Tavern
City, Thomas Street (Matthews)
City, Tower Street (Jewell)
City, Tower Street (Read)
City, Town Wall (Shilton)
Town Wall Tavern
City, Upper Well Street (Shortley)
City, Warwick Lane (Dalton)
Turks Head
City, Warwick Lane (Gardner)
Red Lion Inn
City, Warwick Lane (Shepperd)
City, Warwick Lane (Thompson)
City, Well Street (Seekerson)
Reindeer
City, Well Street (Smith)
City, West Orchard (Rider)
City, Whitefriars Lane (Edwards)
Black Dog
City, Whitefriars Street (Edwards)
Black Dog
Coundon (Barr)
Coundon (Sanders)
White Lion
Coundon Green
Nugget
Courthouse Green (Bunn)
Weavers Arms
Courthouse Green (Orton)
Courthouse Green, 237 Bell Green Road (Birch)
Weavers Arms
Courthouse Green, 237 Bell Green Road (Harrison)
Weavers Arms
Courthouse Green, 303 Bell Green Road (Bradford)
Golden Fleece
Courthouse Green, 771 Stoney Stanton Road (Cakebread)
Navigation
Earlsdon, 112 Berkeley Road South (previously Cromwell St)
Earlsdon, 32 Earlsdon Street (Welton)
Royal Oak
Far Gosford Street (Bird)
Hertford Arms
Far Gosford Street (Ensor)
Far Gosford Street (Fawson)
Three Crowns
Far Gosford Street (Walton)
Hertford Arms
Fillongley, Mill Lane (Pickering)
Flints Green (Keatley)
Raglan House
Foleshill (Carpenter)
Foleshill (Cotton)
Foleshill (Daniels)
Foleshill (George)
Foleshill (Hadden)
Foleshill (Markhill)
Foleshill (Moore)
Foleshill (Nicholls)
Navigation
Foleshill (Orton)
Foleshill, 1007 Foleshill Road (Morris, Walling, Sutton)
Three Horse Shoes Inn
Foleshill, 12 Old Church Road (Butcher)
Bell
Foleshill, 151 Lockhurst Lane (Lenton)
Crow in the Oak
Foleshill, 172 Lockhurst Lane (Stringer, Dalton)
Rose
Foleshill, 24 Cromwell Street (Lowe, Aiers, Sidwell)
Bricklayers Arms
Foleshill, 252 Foleshill Road (Dalton)
Prince William Henry
Foleshill, 305 Armfield Road (Hewitt)
Fleece
Foleshill, Carpenter's Lane (Clarke)
Foleshill, Carpenter's Lane (Hunt)
Swan
Foleshill, Carpenter's Lane (Lole)
Foleshill, Carpenter's Lane (Randle)
Foleshill, Eden Street, Paradise (Gore, Hilton)
Adam and Eve
Foleshill, Grange Lane, (Grange Road) (Sephton)
Boat
Foleshill, Lockhurst Lane (Brown)
Foleshill, Lockhurst Lane (Clarke)
Foleshill, Lockhurst Lane (Gamble, Needham)
Pilgrim Inn
Foleshill, New Inn Bridge (Parrish)
New Inn
Foleshill, Old Church Road, Bell Green (Hughes, Dawes)
Shoulder of Mutton Inn
Foleshill, Parting of the Heaths (Adkins)
Foleshill, Parting of the Heaths (Isaacs)
Foleshill, Parting of the Heaths (Randle)
Foleshill, Red House Road (Nicholls)
Foleshill, Windmill Lane (Birch)
Foleshill, Windmill Lane (Latham)
Foleshill, Windmill Lane (Lucas)
Foleshill, Windmill Lane (Smith)
Foxford, 61 Grange Road (Whitehall, Coulson)
Boat
Gosford Street (Allen)
Gosford Street (Bray)
Griffin
Gosford Street (Fawson)
Three Crowns
Gosford Street (Freeman)
Gosford Street (Gascoigne)
Gosford Street (Johnson)
Gosford Street (Lomas)
Gosford Street (Miles)
Anchorsmith Tavern
Gosford Street, Harnall Place (Salisbury)
Hall Green (Ball)
Golden Fleece
Hall Green (Duncliffe)
Hall Green (Harban)
Hall Green (Harrison)
Weavers Arms
Hall Green (Humphries)
Shoulder of Mutton Inn
Hall Green (King)
Hall Green (Moore)
Hall Green (Turrell, Smith)
Rose in June
Hall Green Road (Woodhouse, Walden)
Green Man
Hall Green, Aldermans Green Road (Turrell, Strong, Webb, Smith)
Rose in June
Hawkesbury (Bailey)
Boat
Hawkesbury (West)
Hawkesbury Lock (Beasley)
Greyhound
Henley Green (Harris)
Hillfields (Astell)
Hillfields (Kimberley)
Hillfields (Rigby)
Hillfields (Rolling)
Hillfields (Sidwell)
Elephant and Castle
Hillfields, 23 Castle Street (Sidwell)
Castle
Hillfields, 46 Gilbert Street (Harrison)
Hillfields, 47-48 Castle Street (Lane, Lenton)
Hillfields, 61 Harnall Lane West (Shilton)
Fiveways Tavern
Hillfields, 68 East Street (Allen, Frances)
Bunch of Flowers
Hillfields, 8 Cross Street (Francis, Poole)
Vine Cottage
Hillfields, East Street, Harnall Fields (unknown)
White Horse
Hillfields, Harnall Lane (Elton)
Freehold Tavern
Hillfields, Harnall Lane (Jordan)
Freemasons Tavern
Hillfields, High Street, Newtown (Farren)
Hillfields, High Street, Newtown (Gilbert)
Hillfields, Junction Street (Francis)
Vine Cottage
Hillfields, Primrose Hill Street (Goode)
Hillfields, Primrose Hill Street (Hirons)
Hillfields, Primrose Hill Terrace (Shilton)
Weavers Arms
Hillfields, Vauxhall Terrace (Lamb)
Keresley (Clarke)
Hare and Hounds
Keresley (Foster, Goode)
Bell
Keresley (Hall)
Keresley (Hixon)
Mount Pleasant
Keresley (Howes)
Keresley (Johnson)
Keresley (Neal)
Keresley (Wakelin)
Little Heath (Archer)
Navigation
Little Heath (Baylis)
William IV
Little Heath (Clarke)
Little Heath (Edwards)
Three Horse Shoes Inn
Little Heath (Gould)
Little Heath (Harris)
Little Heath (Haughton)
Little Heath (Judd)
Little Heath (Kelley)
Little Heath (Poultney)
Holly Tree
Little Heath (Sheasby)
Little Heath (Smith)
Royal Hotel
Little Heath (Woodcock)
Wheatsheaf
Longford (Abbott)
Longford (Ashbourn)
Longford (Ball)
Coach and Horses
Longford (Bentley)
Longford (Biggs)
Longford (Burdett)
Longford (Cox)
Longford (Hopson)
Longford (Johnson)
Longford (Smith)
Holly Bush
Longford (Wilson)
Coach and Horses
Longford, 140 Longford Road (Hackett, Woodhouse, Rogers)
Griffin
Longford, 2 Station Road (Stringer)
Longford, Grange Lane (Mason)
Longford, Grange Road (Whitehall)
Longford, Longford Road (Pickard, Woodhouse, Mason, Sephton)
Saracens Head
Radford (Lydiatt)
Radford, Radford Road (James)
Spon End (Chimes)
Spon End (Patrick)
Grapes
Spon End, Sherbourne Street (Wilson)
Hope and Anchor
Stoke (Ensor)
Stoke (Jackson)
Stoke (Lester)
Rose and Crown
Stoke (Orton)
Rose and Woodbine Inn
Stoke (Pinfold)
Stoke (Walton)
Stoke, 18 Church End, Stoke (Fellows)
Rose and Crown
Stoke, 262 Walsgrave Road (Kimberley)
Rose and Crown
Stoke, 44 North Street (Ward)
Rose and Woodbine Inn
Stoke, 7 Gosford Terrace (Harris)
White Lion Hotel
Stoke, Harnall Lane (Cooper)
Bowling Green
Stoneleigh (Hall)
Stoneleigh (Hudson)
Stoneleigh (Keartland)
Stoneleigh (Sparrow)
Stoneleigh, Broad Lane (Bailey)
Stoneleigh, Broad Lane (Linney)
Stoneleigh, Broad Lane (Sumner)
Hawthorn Tree
Stoney Stanton Road (Banbury)
Stoney Stanton Road (Lester)
Stoney Stanton Road (Rowston)
Navigation
Stoney Stanton Road (Smith)
Tile Hill (Chattaway)
Tile Hill (Cox)
Walsgrave (Barson)
Mount Pleasant
Walsgrave (Gilbert)
Walsgrave (Liggins)
Red Horse Inn
Walsgrave (Lowe)
Cock
Walsgrave (Parrish)
Shoulder of Mutton
Walsgrave (Phipps)
Walsgrave (Remmer)
Walsgrave (Sibley)
Spotted Dog
Walsgrave (Smith)
Horse and Jockey
Walsgrave (Turner)
Walsgrave (Wrighton)
Walsgrave, Sowe Waste (Hayes)
Spotted Dog
Walsgrave, Sowe Waste (Randall)
Walsgrave, Sowe Waste (Wakeford)
Walsgrave, Tusses Bridge, Sowe (Grant, McElroy)
Westwood Heath (Greenwood, Green)
Whitley, London Road (unknown)
Royal Oak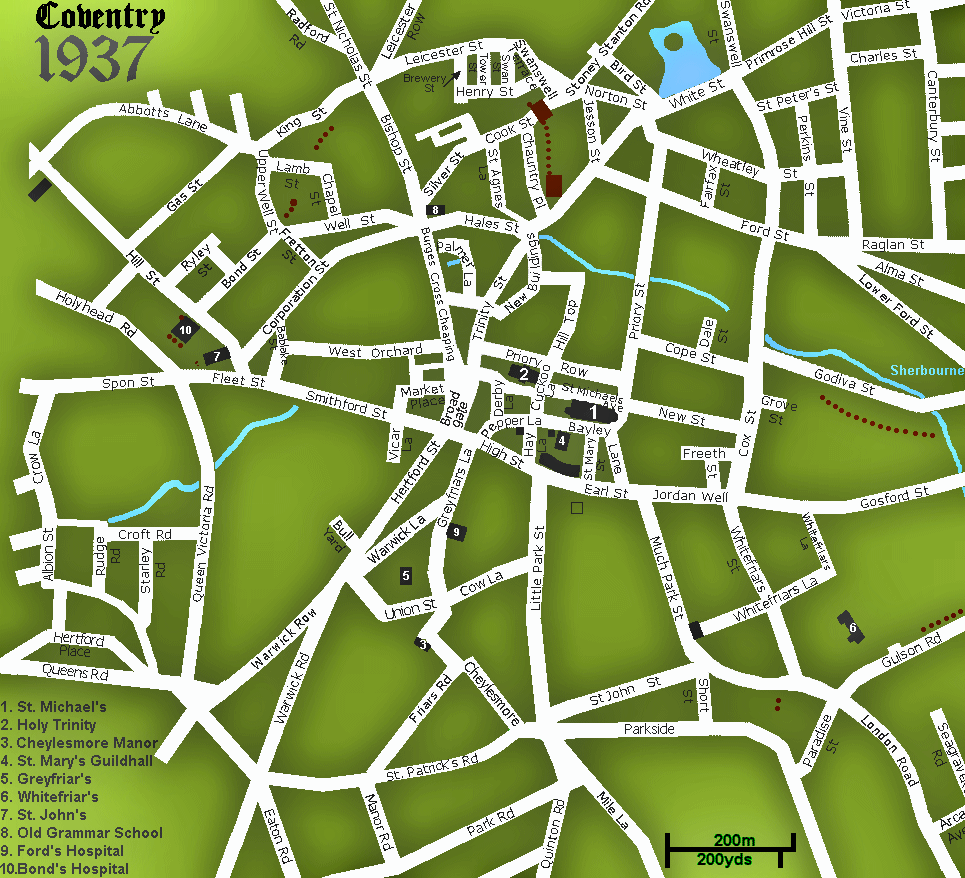 Coventry city centre as it looked in 1937. (Drawn by Rob Orland.)